At UPM Conveyors we pride ourselves on innovative solutions and recently announced our development of a new system for faster cooling of multi-impression closures.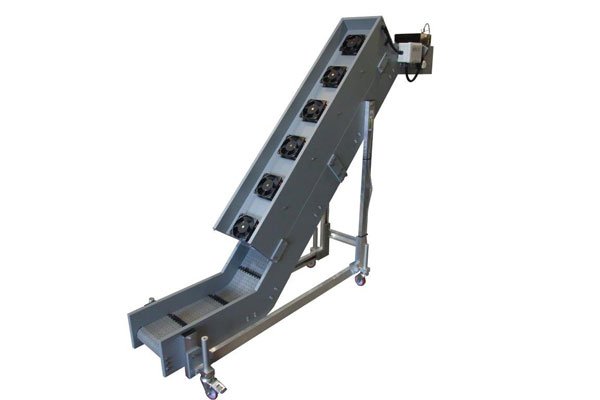 The system features high-airflow fans over a water cooled heat exchanger. The fans blow out cold air onto the closures and can reduce temperatures from 70C to 20C. Variable speed control has been designed into the system.
Main advantages include time saved, less deflection in the collection bin and the ability for businesses to increase their output. With one major manufacturer, a production increase of 38% was achieved.
Further details of the system can be found here, on the British Plastics website, which featured our work in March 2017.
Roy Fowler comments
"To cater for multi impression closure moulding where typically 120 caps can be moulded on a 10 second cycle, it is imperative to cool them down to avoid deflection in the collection bin," explained Roy Fowler, Director at UPM Conveyors.
"There is, however, another major advantage in quickly removing heat from the product, which is to further reduce the cycle time."
Get in touch
At UPM Conveyors we continue to create new solutions and have been at the forefront of design in the industry for many years.
You can take a look at previous work in the press from a 2014 project with Plastek UK: http://www.packagingnews.co.uk/equipment/upm-cut-a-few-complex-shapes-at-plastek-project-profile-01-06-2014
The article on Packaging News looks at how we were able to enhance the profile of the brand to make it more appealing to blue chip companies.
If you have an upcoming project you'd like to discuss with us, please get in touch by calling +44(0)1753 548 801 or by emailing sales@upm.co.uk. Our team look forward to hearing from you.