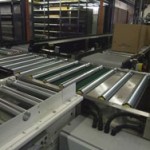 Gravity conveyors are an economical and simple form of transporting products from one point to another. This requires minimal effort as is achieved by using the force of gravity to move materials over a downward path. Items with a sufficient weight can easily move unassisted downwards, usually on an inclined runway.
FDA Plastic, Stainless steel and zinc rollers are available in 30mm, 40mm & 50mm diameters on centres to suit the application.
Line Shaft Driven Roller Conveyors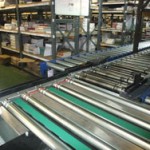 Line shaft driven roller conveyors are a more advanced form of transporting products from one point to another. As the name suggests, they are powered by a shaft beneath rollers. This type of conveyor is suitable for lighter products, up to 50kg such as cardboard boxes and tote boxes.
Incorporates 50 mm Diameter Rollers fitted at 75 – 150 mm pitch Giving 5Kg Drive Per roller
Available in widths 300mm rising in 50mm increments to 750mm
Low pressure accumulation
Power up to 30 metres from one 0.37Kw drive unit
Also available in stainless steel
Powerd Roller Vegetable Grading Conveyor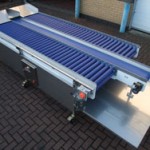 Picture shown to the right is of a Pepper Grader, manufactured for Thanet Earth. They are based on the Isle of Thanet in Kent and boast the largest, and most high-tech greenhouse complex in the UK. 
Thanet Earth has enough glass to cover 80 football pitches for growing tomatoes; peppers and cucumbers with exceptional green credentials. and as part of a continuous efficiency improvement programme consulted UPM Conveyors to automate the grading of Peppers at a rate of 3 tonnes per hour.
Food Grade Gravity Roller Conveyor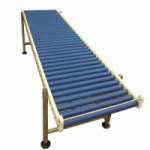 Blue PU 50mm dia rollers with 304 stainless steel spindles
304 stainless steel support frame
100mm dia articulated foot pads + 75mm height adjustment
Suitable for pressure clean down
If you'd like to discuss any of our conveyor systems or your own requirements please call UPM on 01753 548801 or email sales@upm.co.uk.