Once all the products are designed, created and consolidated, it's crucial to ensure they're packaged efficiently and quickly and that's where effective packaging conveyor systems come in. We work with many large manufacturers to streamline their production line with our custom designed packaging conveyor systems.
There are a range of solutions available to all types of packaging needs which factor in various components and are suitable for different industries.
For example, HMPWE modular belt conveyors comply with food safety rules and offer an option to change the conveyor system to suit any arrangement; from horizontal to vertical and any other formats, including adding in secondary conveyors for packaging.
Packaging conveyor solutions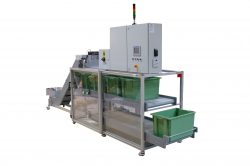 Vertical tote filling system
UPM have developed a vertical tote accumulation system which incorporates:
Static removal with air ionisers
CAT 3 safety Pilze relay
Short circuit current rating
KA rated and UL listed components
Allen Bradley inverter drives
PLC Control
This means that the system is able to optimise product flow with an injection moulding machine, enabling the conveyor products to be truly isolated.
There is an auto-reject flip flap in the well of equipment which is linked to the control so the operator can change the parameters whenever they need. This rejection system is very precise and allows only acceptable products to be transferred into the tote boxes for distribution.
To learn more about our bespoke packaging conveyors, contact us today.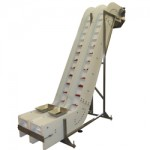 Twin Swan Neck Conveyor to Bagging Machines
The swan neck conveyor is able to transport light-weight products from one floor to another, improving picking and packing efficiency and workflow which can accommodate a variety of business spaces. The dual conveyor belts allow more units to be transported on modular belt conveyors to another level which means that handling snack food and any other light-weight containers can be executed with better speed and efficiency.
The conveyor systems are food approved, and have quick removal conveyor belts which makes cleaning more efficient. The variable speed and stainless steel support frame create an ideal solution for food and pharmaceutical industries.
Case Studies
We work with a variety of customers to design a packaging solution for their manufacturing needs. We've worked closely with Blackdown Growers to support their growth in business and ensuring their equipment meets their specifications with a bespoke conveyor system.
We use 3D CAD design software and have created packaging equipment for a medical injection device specialist and created a vertical conveyor solution which sped up the handling and packaging process whilst providing solutions for their small footprint.
Contact us to allow us to support your company with all handling and packaging conveyor solutions.