At UPM Conveyors, we're proud to have over 40 years of experience expertly designing conveyor systems for businesses in all types of industry. Recently, we worked on a bespoke vertical conveyor system for transporting a medical device directly from the moulding machine to an assembly system.
Using 3D CAD design software, we created the ideal conveyor solution for our client, a medical device injection moulding specialist based in the UK. We provided several solutions to improve their system for end of the line packed components.
Give our team a call on 01753 548801 to discuss your own requirements for bespoke conveyor systems.
Current conveyor system issues
Our client required a new bespoke solution to resolve the following issues: 
Slow speed with two mouldings per ~30 second cycle time
The parts required a minimum of 15 minutes of cooling time in ambient air prior to entry into the assembly machine
Labour intensive process with manual part filling into the assembly machine
Small footprint available for a solution
During our site visit with the client's engineering team, we designed the following four identical conveyors, which have now improved their process of manufacturing a medical product.
Our new bespoke conveyor solutions
Vertical conveyor design using a Forbo modular link belt with scooped flights
Double gearbox with final output speed of 1.8rpm
Stainless steel conveyor support frame and PET-G dust covers
Using a simple variable speed inverter at 40hz the belt speed and length provided 17 minutes of ambient cooling time
Bespoke conveyor design using the latest 3D CAD software
Photos of the bespoke designs during installation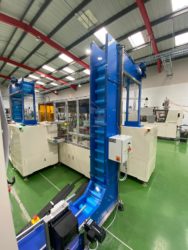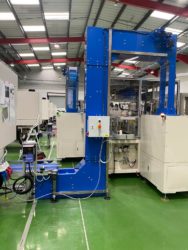 Following the conveyor system installation, we stayed onsite to fully test the new system to ensure everything was working correctly. This meant that the company was then able to seamlessly start using the system.
As well as full onsite testing of all conveyors, we provide full training on all aspects of how to use the system for relevant staff members.
Ask about our bespoke conveyors
If your business is looking for a bespoke conveyor system to help improve efficiencies, then give us a call to discuss your requirements. We've worked with a wide range of businesses across the UK to design and create the perfect conveyor system. No job is too big or too small and we look forward to discussing your conveyor needs with you.
Get in touch with our team on 01753 548801 or email sales@upm.co.uk.