UPM have the company infrastructure to cater for total turn key conveyor systems operating worldwide with all aspects of manufacture carried out in house including fabrication; programming and control build allowing complete control of quality/inspection and maintaining delivery promises.
UPM accept total responsibility for turn key projects operating to the agreed specification and to the customer satisfaction which is a result of Performance Guarantee allowing peace of mind with reliability and trouble free operation plus UPM liaise with other Original Equipment Manufacturers  (OEM) to interface the system with the most efficient and economic product flow configuration employing the minimum of labour plus an overview of the system can be with a central PLC touch screen control ensuring the system is user friendly and simple for the operator who would have access to a slave panel in the production area.
The system may comprise different types of conveyor ranging from powered roller line shaft conveyors; gravity roller sections and powered plastic link belt conveyors dependant on the application and type of product being handled at that stage of the system.
UPM enjoy a preferred supplier status with major multi nationals operating world wide
Central Conveyor Systems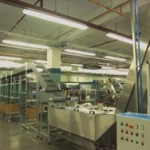 Transporting aerosol lids from a moulding machine area through a wall into a clean room for assembly
Pharmaceutical approved link belt driven on sprockets
Quick belt removal for easy clean down
Conveyor sides in HMWPE
Central control system with slave panel in moulding area
Product auto diverts to storage if assembly system high level or alarmed out
Central Conveyor / Packaging Systems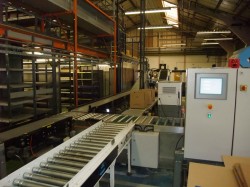 Transporting boxes from a central packing area to a check weight station then to carton sealer lanes and then finally onto a shipping area
LogisticsPRO down loads order data to the UPM PC control
This information is then transferred to the UPM bar code readers to divert boxes to the appropriate picking; packing and shipping areas
At each stage the conveyor system sends data back to LogisticsPRO keeping the status of each order continuously updated
Central Conveyor Systems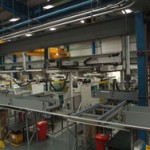 Transporting automotive components from a moulding machine robot to a packing line
Quick belt removal for easy clean down
Conveyor sides in HMWPE
Low voltage E/stop circuit
Central control system with slave panel in moulding area