Robotic Product Handling
Transporting automotive components from a moulding machine robot to a packing line.
High grip rubber top belt inserts to prevent component slippage.
Conveyor sides in HMWPE & support frame work in stainless steel.
Central (PLC) control system with slave panels situated in moulding area.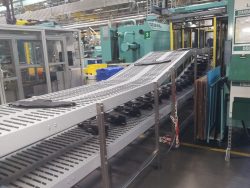 Automotive Dashboard Handling System
Transporting moulded dashboard components for a major leading car manufacturer.
Fully integrated PLC control interfaced with 10 individual machine robots.
Conveyor sides in HMWPE & support frame work in stainless steel.
Parts transported from high-level robots conveyed to the assembly area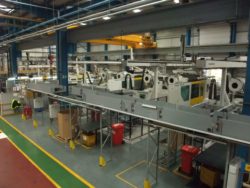 'Under mould conveyor with good & reject product diverter
Under mould twin lane conveyor with pneumatically operated metal product diverter.
Upon receiving an out of tolerance signal from the moulding machine, the diverter operates and reject parts are conveyed to a reject bin.
Designed & manufactured to the moulding machine aperture.
Either a Festo or SMC solenoid, isolation valve and pressure gauge can be specified.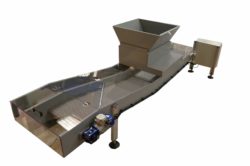 Vertical Tote Box Filling
Besides the press tote box filling system.
Compact design to allow for minimal usage of space in the production environment.
Fully integrate (PLC) control programmed to interface with molding machine.