Our conveyor systems used for the medical industry are:
Designed to prevent cross-contamination
Hygienic and sanitary
Create efficiency in production processing
We work closely with the pharmaceutical industry to create solutions that work for bespoke requirements.
Types of conveyor solutions
UPM can provide conveyor solutions for applications such as:
Bottle filling
Sorting and grouping medical and pharmaceutical products
Blister packs
Compressing tablets
Weighing and rejection system
Transferring
Sterile Conveyor Belts System
Our conveyor systems are designed and built from high-quality stainless steel which can be thoroughly cleaned, disinfected and sterilised safely without corrosion or absorption. The quick-release belts allow for quick sterilisation and turnaround between pharmaceutical materials.
Reduce cross-contamination
Many factories package various drugs and cross contamination needs to be reduced – stainless steel belts make it easier to reduce this with low maintenance sanitation.
Contact us today to learn how we can support your sanitary conveyor needs and design a system that works for you regardless of space constraints with a focus on precision, labeling and material handling.
360-Degree Carousel & Horizontal Conveyor

This conveyor belt is ideally suited for the pharmaceutical industry because it is easy to sanitise and long-lasting. What the 360-degree carousel can do for you:
Transport packets of pharmaceuticals to operator stations for packing
A central conveyor belt for storage
Safe link belts
Quick belt removal for easy clean down
A stainless steel support frame
Single drive system with an inverter
Handy foldable operator stations
CF991 Rotary Box Filler
Box filling conveyor systems are excellent at weighing and ensuring the correct number or weight of items are packed. This system can be used as a key part of the pharmaceutical manufacturing process to work quickly to pack the boxes prior to distribution.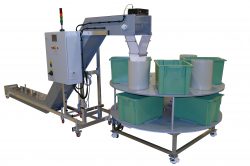 These are the key benefits of the Rotary Box Filler:
No expertise required, press and go
10 positions maximum
Impulse counter up to 9999 signals from the process machine
Free access under the unit to allow for storage and better access
Plug in frame connection attachment
Test function on control for the position setting prior to automatic start
Automated safety programmed – return to the fill position
240v power supply
Stainless steel chutes ensure no corrosion
Optional clear perspex cover for chute for the safety of the staff
Maintain Temperature
Under Belt Cooling Fans
Many pharmaceutical chemicals and raw materials need to be kept at a consistent temperature. Hence, a critical part of your conveyor equipment is under belt cooling fans which are built in as part of the line and offers precision in temperature maintenance.
Located beneath the belt surface to blow ambient air onto products
UPM will advise on the most efficient number of fans and types of fans depending on temperature and belt width
Equipped with a temperature sensor with automatic reset
220v AVpower supply
Quiet at 55dBa
Ambient airflow of 375 m3/h per fan
Bespoke Conveyor Equipment
We have a variety of temperature-controlled conveyor systems, to see how we can support your production line. Contact us today.
UPM can work with your business to create a system which works for your needs, whether you need a system which provides blister packaging or high speed bottle filling, to packing bulk materials, we can provide the right machines and equipment to ensure your production line is within your control and reduces any of your current sanitation challenges.
Call us at +44 (0)1753 548801 or email us at sales@upm.co.uk to send your brief.
Our work in the medical industry
Read our case studies to discover more about how our conveyor systems have provided the right solution to pharmaceutical companies: