Automation is crucial as businesses grow to ensure that capacity grows along with the industry to meet deadlines and bulk orders. The introduction of automated systems enables your business to increase efficiency and reduce labour costs.
If you think your business needs an automated conveyor system contact us today.
What to look for in automated systems
While there are many parts to an automated system, the central machine is the conveyor belt and if this is not right, then the production line will not be as efficient as it could be. Whether the automation is for food and drink, pharmaceuticals or another industry, it's critical to understand what conveyor format you require.
The options range from horizontal, bucket, vertical, swan neck and carousels. Depending on your product, space and requirements, we can recommend the ideal conveyor system for your manufacturing space and design a bespoke system perfect for you needs.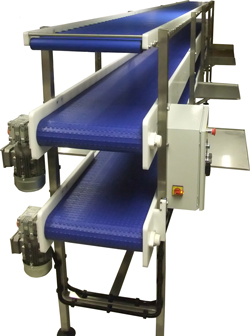 Automation in the food industry
While there are many industries that need automated conveyors, the food industry has one of the most complex requirements due to stringent hygiene standards.
Using factory automation in the food industry reduces manual handling which means that the conveyor systems need to be designed in a way to be able to be sanitised and easy to maintain. Many of our conveyor systems have removable belts and are made of stainless steel allowing easy sanitation with no risk of contamination, and allowing employees to have full control of the assembly line.
HMWPE conveyor systems are built as modules, are optimum for a food environment and allow flexibility for as much or little automation as required. This modular design enables manufacturers to control where the joining rods go, which means that the set-up can be changed from horizontal to vertical or rearrange the whole configuration as the joining rods are not welded together. The HMWPE design is also incredibly robust and can be installed in environments reaching +/- 200°C.
Conveyor sortation systems
Turnkey conveyor solutions allow for precision sorting which can deliver increased productivity for e-commerce clients or any industries which depend on reliability and flexible logistics. This automated process is easily done out of the box or via a bespoke solution with design, assembly, installation, and maintenance provided by UPM conveyors, contact us today to explore your options.
Case Studies
At UPM, we work with many manufacturing companies to provide automated conveyor systems that reduce costs and improve efficiency for our customers. We've worked with Blackdown Growers to provide conveyors for automation of their salad and baby leaves production.
We've also created bespoke solutions for McCormick for sachet manufacturing and distribution using bag fillers and and merging stations. Find out more about our automation solutions here.