Merging Sachets
McCormick (UK) Ltd, based in Haddenham Aylesbury are the global leaders in the manufacture, marketing and distribution of seasoning in the food industry. You may have heard of Schwartz, their flagship brand, and it's likely you enjoy their products daily. They selected UPM to design, install and commission a product handling system for all stages of sachet production. This was done at a total rate of 120/min from two filling machines, through to final cartoning and palletising.
Full automation is achieved via a PLC touch screen control with HMI operator interface. All programming and control build supplied in house by UPM allows ease of liaison with McCormick engineers for fine-tuning the system.
Sachets from two bag fillers are fed via individual belt conveyors to a Merging Station incorporating sensors for detecting incoming sachets and to energise a pneumatically operated gate to eliminate any product overlap. Sachets are then fed separately at a variable rate to an Equaliser to distribute product evenly in the sachet and then on to metal detection with an automatic reject station prior to being fed via two further belt conveyors having variable speed control for correct alignment to the carton erector and finally to the palletiser.
Frank Hentschel of McCormick expressed satisfaction with UPM Conveyors particularly the on-site engineers who performed the installation with very minimal disruption and provided an excellent service.
Switching Systems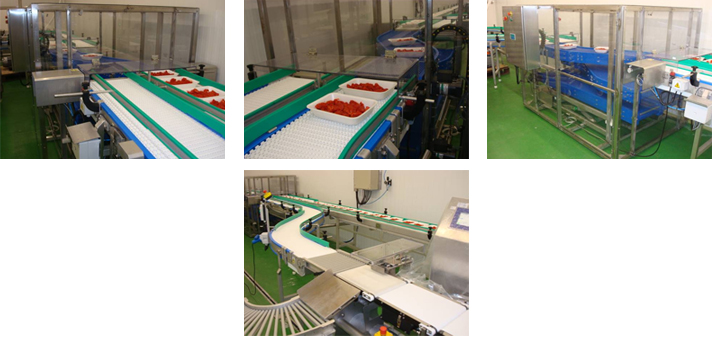 The largest meat processing company in Spain invested 5 million Euros in a new packaging line and UPM Conveyors supplied a food tray Switching System to allow product in trays to be automatically diverted to any of four film sealing machines without losing orientation at a rate of 150 per minute.
The system is based on four different format belt conveyors mounted vertically on an electrically operated scissor lift to present the required conveyor into position according to the input from the Siemens control which is interfaced to the main process line and all aspects of manufacture were carried out in house including fabrication ; programming and control build to meet IP67 rating.
Roller Conveyor Transfer Systems
Vertical Elevator Conveyor System
Vertical elevators are used to transport boxes or totes from a lower level to a higher level to avoid doors or to free up production space.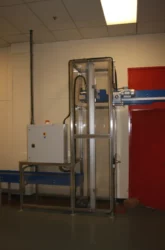 Allen Bradley PLC and inverter driven control system
CAT 2 access door safety interlock
Festo linear lift
Custom built to customer request