Here at UPM we have developed various different sizes of rotary tables/lazy susans to cater for the accumulation of product, allowing operators time to inspect and pack.
We have included as standard a variable speed control that offers a range of 2 to 7 RPM. This is together with a choice of outer ring heights and cut outs, which cater for in and out feed conveyors. These help to assist the transfer of products easily.
The rotary table/lazy susan top plate can be made from High Molecular Weight Polyethylene (HMWPE) or stainless steel. These are best for ease of access for clean down, yet totally enclosed for operator safety. A choice of product guides are available ranging from a simple arm to divert product to the centre of the table, through to an overhead product diverter ensuring 'first in first out' principal.
We can integrate the rotary table/lazy susan into an existing system or offer a total solution of product handling. Get in touch for more information on 01753 548801.
Rotary Table - Standard Model
| | |
| --- | --- |
| Finger or hand trap point | None |
| Disc Diameter | 0.5m up to 2m |
| Disc material | GREY HMWPE |
| Frame material | 304 Stainless steel |
| Outer ring material | GREY HMWPE |
| Articulated foot pads | PA6 100mm diameter bolt down |
| Power Supply | 1ph 240v 50hz |
| Control | Variable speed inverter |
| Disc rotation | 5-8 rpm |
| Height from floor to disc | 800 mm +50mm adjustment |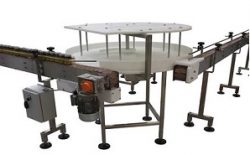 Rotary Table Options
In-feed belt conveyors - Swan neck, angle or horizontal
3PH 400V 50Hz Fixed rpm Manual motor starter control
Outer ring cut out - dimension to suit application
Emergency stop buttons
In and out feed deflector plates
Lockable 100mm diameter castors
Support frame panelled with 304 stainless steel
Stainless steel foot pads
Stainless steel rotating disc