Underbelt Metal Detection
The 6600 Metal Detector for installation on inclined conveyors provides a solution to many metal detection problems. The use of this metal detector prevents damage to machinery resulting in lower repair costs and downtime. There will be an increase in recycled product value and a quick pay-back on capital investment.
The main features are:
Low cost
Easy to install
Small, lightweight control unit
Directly attaches to lightweight conveyors
Detects both ferrous and non-ferrous metals
Plug in search coils
Sensing height of detector covers whole belt width
Complies with CE-EMC regulations
Reduced susceptibility to electrical noise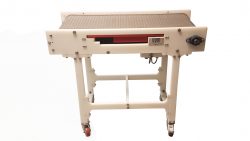 Tunnel Metal Detector
The tunnel range of metal detectors incorporate high sensitivity, balanced coil technology for detecting and removing ferrous, non-ferrous and stainless steel metal contaminants, ensuring product purity and machinery protection.
The main features are:
Easy operation
High sensitivity - balanced coil technology
Single printed circuit board for ease of servicing
Surface Mount Technology (SMT) for increased reliability
Integral circuitry for remote operation and monitoring of reject devices
Compliant with CE - EMC regulations
Available in paint finish or stainless steel
Push button selection of controls via on-board micro-controller
Storage of up to 10 product settings
Password protected
2 line LCD display of selected parameters
Product compensation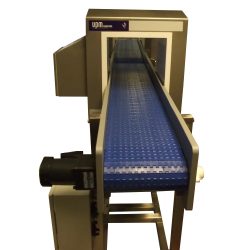 Under Belt Cooling Fans
Located beneath the 22% open link belt surface to blow ambient air onto product prior to discharge into storage container
Quantity of fans depends on belt width and final product temperature required
175mm dia steel die cast aluminium frame with steel impeller
Equipped with ball bearing and motor stall protection by temperature sensor with automatic reset
1ph 220v ac power supply
Low noise 55 dBA
Ambient airflow of 375 m3/h per fan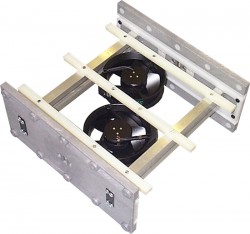 Air / Heat Exchanger Cooling
Located above the belt surface to blow ambient or chilled air through the air / heat exchanger on to the product
Quantity of fans depends on belt width and final product temperature required
175mm dia steel die cast aluminium frame with steel impeller
Equipped with ball bearing and motor stall protection by temperature sensor with automatic reset
1ph 220v ac power supply
Low noise 55 dBA
Ambient airflow of 375 m3/h per fan