UPM has developed several methods of quick belt removal, to allow ease of access for cleaning. This ranges from simple wipe down, to full pressure wash, dependant on the application and type of belt conveyor.
Solid PU and plastic link belts in horizontal; incline or swan neck configuration can be easily accessed via manually operated tension release arms. These operate via the top dead centre logic, allowing all aspects of the conveyor to be cleaned without the need to use any special tools. This is a direct benefit to the operator in ease of maintaining a high care area. Particularly for food applications which may be satisfied by FDA approved HMWPE sides, located within a stainless steel grade 304 or 306 support frame fitted with adjustable foot pads or wheels for mobility.
UPM offer a free advisory service to their clients, resulting in a bespoke customer engineered solution. This then results in a Performance Guarantee allowing peace of mind with reliability and trouble free operation being the cornerstone of their success.
Quick Access for Belt Cleaning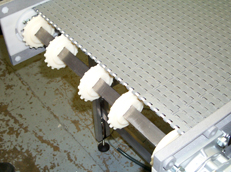 PU Belt

PU Borderflex