With over 40 years' experience in conveyor design, manufacture, installation and maintenance, we're proud to have worked with an incredible range of businesses across all manner of industries, including plastics and manufacturing. Here, we look at a recent project where we designed a bespoke counting conveyor and storage system for a major global company.
As part of this project, the client, a technical injection moulding specialist who has a production facility based in the UK, needed several solutions to improve the system for end of the line packed components. Our experts used 3D software to help create the ideal solution and the system is now successfully in place.
Find out more below and contact us on 01753 548801 to discuss your own requirements for bespoke conveyor systems, whatever your industry. We'll be able to talk you through our trusted and reputable services.
Old conveyor system issues
There were many challenges our bespoke system resolved, which has now improved their process of manufacturing a medical product:
High speed 250 parts per minute
~600 parts loaded into a box
Lightweight flow wrapped product
High quality construction required for the conveyor using price competitive materials
Labour intensive process with manual box change over
Small footprint available for a solution
During our video meeting with the client's engineering team, we designed in real-time using 3D software a conveyor & rotary carousel system that would work better for their requirements.
Our new bespoke conveyor solutions
HMWPE conveyor sides, stainless steel mobile support frame and PET-G dust covers
Cardboard box accumulation system
Bespoke PLC programme that communicated with the downstream flow wrapper high speed count signal.
Bespoke conveyor design using the latest 3D CAD software
After presenting our bespoke design, we manufactured and delivered two identical systems,  with capacity for 12 off cardboard boxes over two tiers.
Photos of the bespoke designs during onsite testing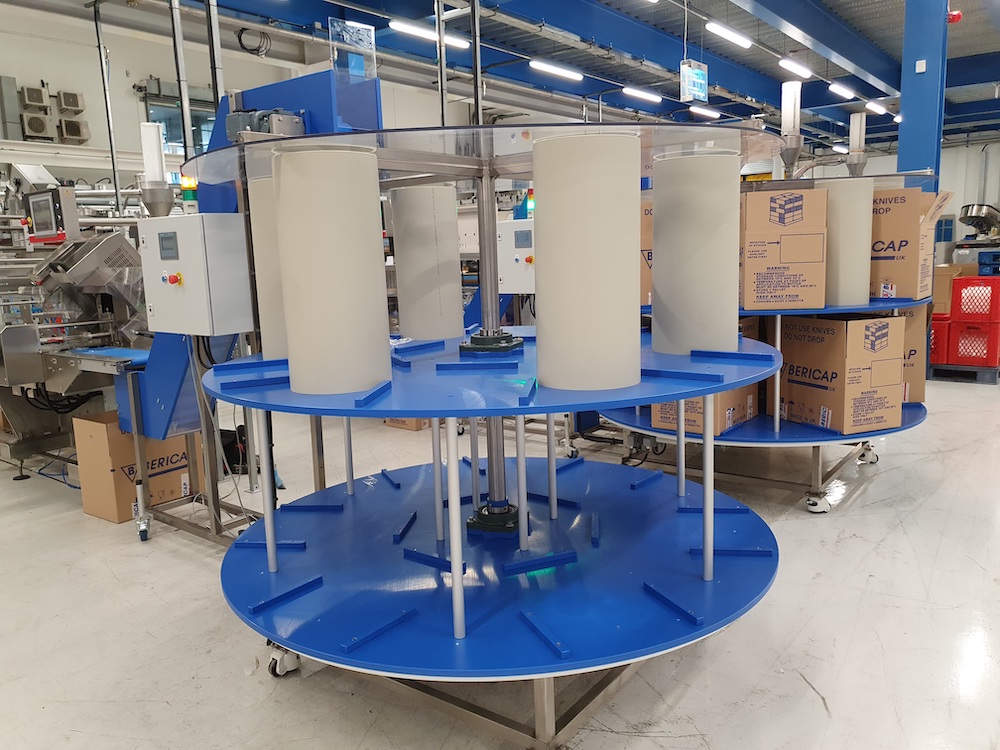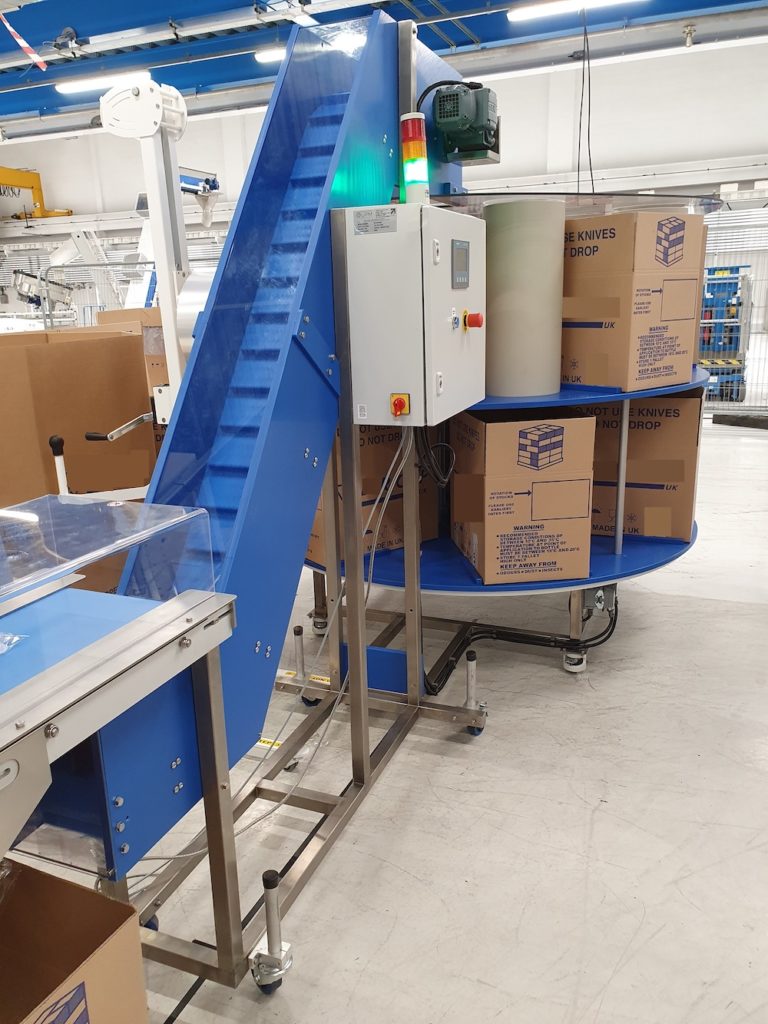 Once installed, our team tested the new system onsite to ensure that all elements were working correctly, meaning the company could start production seamlessly and meet their deadlines. In addition to onsite testing, our team also offers training on all aspects of our conveyor systems for relevant onsite staff. We're also contactable for help and advice and provide ongoing maintenance and support.
Ask about our bespoke conveyors
At UPM Conveyors we offer excellent customer service alongside our expertise with conveyors, and are happy to discuss your requirements and how we can help your business.
As a trusted manufacturer of conveyors, no problem is too big or too small for us to solve and we look forward to working together on the right solutions.
For more information on this project and to see how our expert conveyor solutions could benefit your business, please call 01753 548801 or email sales@upm.co.uk.