In 2019 the team at UPM Conveyors are delighted to return to the PPMA Show – the Packaging Machinery and Manufacturing Show – taking place on 1- 3 October at the NEC, Birmingham.
Visit our stand
Exhibiting at STAND D22, our focus is presenting our total automation solution to visitors, including unattended production tote box fillers, the latest technology we have developed to save time, money and improve overall efficiency.
During the weekend we will welcome new potential customers and showcase our conveyor systems and benefits. As we thrive off working with people and creating bespoke solutions for unique setups, we look forward to hearing about challenging projects we can assist on.
Our main showcase will be our automated box fillers where we allow product to be conveyed via a robot or belt conveyor to a tote box, using a vertical, rotary or linear operation. Involving a check weigh station to ensure tote target count relates to the required weight, it can run unattended for 8 hours, or during 'lights out' as we often refer to it.
Media coverage
We spoke to Food Packer & Processor International magazine and featured in their July/August issue discussing our exhibit and philosophy, whilst going into more detail about our box filler solution.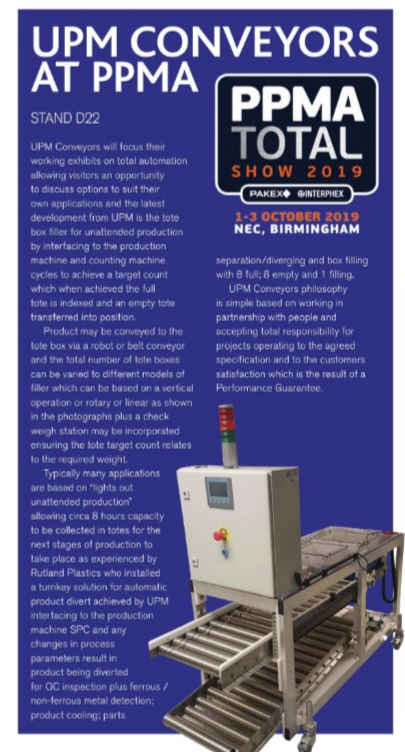 You can also view the full edition of the magazine and our feature online here, as part of their PPMA Total Preview Part One.
Get in touch
If you're attending the show this year we'd love to hear from you and see you across the weekend. In 2018 we reported our best ever exhibition in our 45 year history, where we placed orders within the first two hours. and are hoping to have an even better year in 2019.
To see photos of our stand from 2018 and an insight into what you can expect, read our write-up on PPMA 2018.
For any automated solutions and conveyor enquiries, please contact sales@upm.co.uk.