UPM Conveyors recently created a bespoke bottling line for award-winning BV Dairy, one of the most highly respected suppliers of specialist dairy products in the South West of England, including their famous Dorset Clotted Cream.
About BV Dairy
Established in 1958, BV Dairy were awarded a long-term contract in 2016 to supply cultured milk drinks and drinking yoghurts. With the future in mind and the view of increased demand, the company made a multimillion-pound investment in an automated bottling and packaging system.
Whilst the initial capacity was estimated at four million a year, equipment was commissioned to allow for the production of 16 million units per annum.
Our work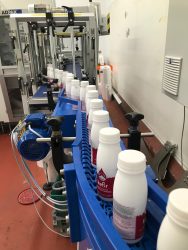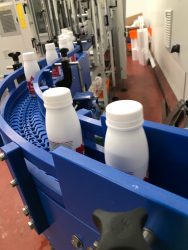 As demand on the new line increased the step to automate was reached and BV Dairy consulted UPM Conveyors to design a system. This system was to transfer bottles through each process stage, from the filling in a high care area to capping, metal detection, labelling and finally to pack flow wrapping and palletising.
For this design, UPM used 3D solid modelling design software to create a 3D digital prototype using the design visualisation and simulation of product to ensure efficient product flow through the high care area and to packing.
UPM liaised with all the main equipment suppliers to integrate the conveyors which involved testing the system at UPM prior to installation. It was necessary to affect the side transfer of product from each section of the system to ensure the elimination of any potential jamming and product damage.
Feedback from BV Dairy
Mark Jeanes, Engineering Project Controller at BV Dairy, expressed his total satisfaction with UPM for their cooperation in managing the project with a minimum effect on production and UPM Conveyors have been awarded the order for phase two of the project.
More information
For more information on our services, experience and expertise, please get in touch on 01753 548 801 or email sales@upm.co.uk.
We take the time to understand your business goals and create the best solutions for the success of your business.