UPM Conveyors will focus its working exhibits on total automation to allow visitors to its stand at the PPMA Total Show from October 1st-3rd 2019.
These visitors will have the opportunity to discuss options to suit their own specific applications. Several systems devised by UPM are for 'lights out unattended production'.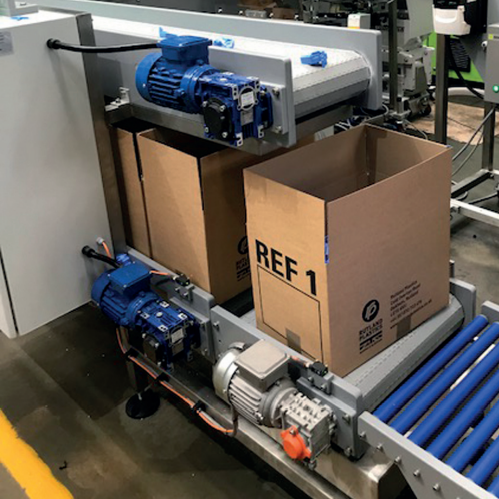 Visit our stand
At the stand, UPM will be showcasing their new tote box filler for unattended production. This works by interfacing the production machine and counting machine cycles so when a target count is achieved, the full tote is indexed and an empty tote transferred into position.
The product can be conveyed to the tote box via a robot or belt conveyor and the total number of tote boxes can be varied to different models of filler.
These fillers can be based on a vertical operation, rotary or linear plus a check weigh station can be incorporated. This ensures the tote target count related to the required weight.
Typically, many applications are based on 'lights out unattended production'. This allows circa 8-hour capacity to be collected in totes for the next stages of production to take place. This was the case at Rutland plastics who installed a turnkey solution for automatic product divert. This was achieved by UPM interfacing to the production machine SPC and any changes in process parameters result in the product being diverted for QC inspection plus ferrous/non-ferrous metal detection; product cooling; parts separation/diverging and box filling with 8 full; 8 empty and 1 filling.
The product being moulded by the Oakham-based company was for an asthma inhaler requiring a cleanroom environment. This is dictated for medical products, and also included an overhead air filter with special lighting as part of the injection moulding machine.
How to find us
UPM Conveyors will be at stand D22 at the next PPMA exhibition show on 1-3rd October 2019 in Birmingham. More info about the show can be found here and more information about our stand can be found on our previous news post.