In the spring of 2018 UPM Conveyors were chosen by Essentra Components Ltd to assist in their component product capture project at their manufacturing facility in Kidlington.
Our team worked with the company and other stakeholders to conduct detailed analysis of their current system to reduce factors that were leading to component loss and machines over producing – both costly scenarios.
About Essentra Components
Essentra Components are one of the leading international suppliers of speciality plastic, fibre, foam and packaging products. They work hard to deliver on light manufacturing and the distribution of components to a wide variety of industries, including security and electronics.
A UK company, they have offices across the globe and as they have built a reputation for supplying small, high volume components, their production system is crucial to the success of products being delivered to high standards and on time.
Our work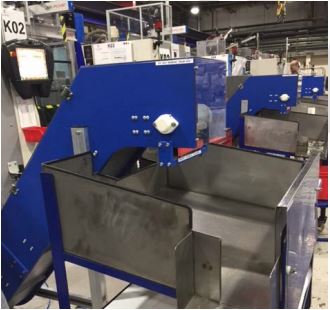 We designed a bespoke solution as part of EC's ongoing component capture project, and installed it on site in Kidlington. Working with their production engineers, we conducted extensive root cause analysis to identify loss zones for components, and discovered conveyors unfit for purpose, and units where static was created from the moulding process.
With these issues established, we evaluated each belt type and flight combination to ensure optimisation across all combinations; this is a significant number as over 35,000 products are offered on site by EC. This was a challenge as three systems – the conveyor, component chute, and anti-static equipment – all needed integration and mating, however, few suppliers allow modifications to suit custom projects.
Throughout this process, we worked with Fraser Anti Static and fabricator TDI Solutions. After six months of trials, research and development, the system was ready to benefit the business. It included a custom designed chute using a dock designed by UPM's Sean Martin, which deposits all components onto the centre of customised UPM swan necked conveyors. At discharge point, de-ionising equipment designed by Fraser Anti Static removes all static from the components to ensure a clean drop to the inspection tables.
Feedback from Essentra Components
Scott Miller, Lead Engineer for Engineering and Facilities for the business has stated, "UPM Conveyors work in conjunction with TDI Design & Production towards the integration of our component chutes with conveyor systems has been amazing.
I look forward to seeing more outstanding bespoke solutions arriving shortly from the team, hopefully with many more to come from them."
Chris Butler, Process Developer Manager at EC Kidlington stated, "We are lucky enough to be playing a part in a period of change and development, and working with colleagues such as those from UPM, who have the same energy for change as ourselves, enables significant progress.
Their attitude towards delivery, safety and the open exchange of ideas matches our own, and is a key component in driving essential improvements."
More information
For more information on our services, experience and expertise, please get in touch on 01753 548 801 or email sales@upm.co.uk.
We take the time to understand your business goals and create the best solutions for the success of your business.