UPM Conveyors, based in Langley has reported a record turnover coupled with some significant investment to help them continue offering a great service as they head towards their first fifty years in the industry.
Founded by Roy Fowler in a back bedroom over forty-five years ago, the company has changed enormously over the years. In the early days UPM was an agent for a number of Italian and US companies, it wasn't until around fifteen years ago that Roy, along with a consultant, decided the best way forward was to ditch the agency business and focus on conveying and latterly becoming a systems integrator working with all the OEM's. After a lot of hard work by Roy, his four directors and twenty-two staff, business for this independent UK engineering company is positively booming.
Roy takes up the story,
"The original UPM Conveyors that we started to make on the Slough Industrial Estate, and later at our new premises in Langley since 1985, were largely best conveyors with st.st. or painted steel with the older type of rubber belts. These had an inherent issue that the rubber belts tended to stretch if they were running between guide rails collecting dust and debris, which became an issue especially for our food-based clients. I then decided to look at HMWPE as the base material for my conveyors, coming up with our own designs for the belts, guide rails, and drive systems.  It took me about five years to get the new designs established, but once we could demonstrate that some of our clients had installed my new systems running 24/7, with no belt stretch in a totally hygienic environment, we were then on our way."

Roy Continued…
"There are so many advantages to these systems, they are much lighter, they are easily fabricated and they can be hosed down many times a day essential for our clients in the abattoir or raw meatpacking trade. With our UPM system,we can run 45 metres of belt with just one motor, so noise levels and energy consumption is very low, which makes the ROI very quick for our clients."
For any private company to make significant investments in new equipment, the onus usually falls on the owner for financial backing, Roy knew that to be successful, two major projects had to be made. The first one of two Routers that take 2×3 meter sheets of HMWPE or UHMWPE to make the profiles of the conveyors and latterly what started to £50k mechanical solid modeling software design system, which creates 3D digital prototypes using the design and simulation of products, so ensuring a perfect solution.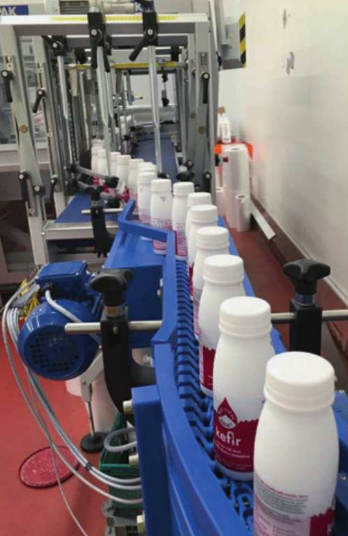 UPM have all the dimensions of the leading suppliers of checkweighers, x-rays, metal detectors, FFS.VFFS, baggers and case erectors so they can create the complex system for clients, producing 3D drawings that the client can then overlay on their own factory drawings. Again these investments have really paid off. The end result a few years ago was when UPM gained the Queens Award For Innovation, I am sure that if another application was made that another reward will follow in the near future. International sales have been growing year on year, not only to the EC but also to Russia, Asia, Australia, Africa and South America.I asked Roy what he puts the success of the past years down to and he replied…
"Firstly if something goes wrong, we send somebody in to fix it without delay, most of our clients run 24/7 so any downtime is expensive for them. I think repeat orders from clients has featured heavily over the past years. An example would be an olive client here in the UK, who ordered a line to pack three tonnes of olives an hour, within three months they ordered an identical line, and then three months after that another line, so nine tonnes an hour!"
There have been countless other examples in the salads, leaf vegetables, pro-biotic dairy products, ready meals, mincemeat and burgers, healthcare and cosmetics both in the UK and abroad. International sales have been growing year on year not only to the EC but also to Russia, Asia, Australia, Africa and South America. Roy is very sanguine about the future for UPM, he said
 "Where we supply kit to clients, they are trying to automate certain areas of their production so that staff can be used elsewhere, and at the same time reduce their own manufacturing costs to keep them competitive. A number of our clients are selling directly to the major retailers so this is high on the agenda for them.

As I write this article in mid February, the dreaded brexit debate continues, some commentators view the future with some pessimism, not so UPM, they are very positive about the future and clearly deserve all the success that comes their way. They are a great example of UK engineering that is flourishing."